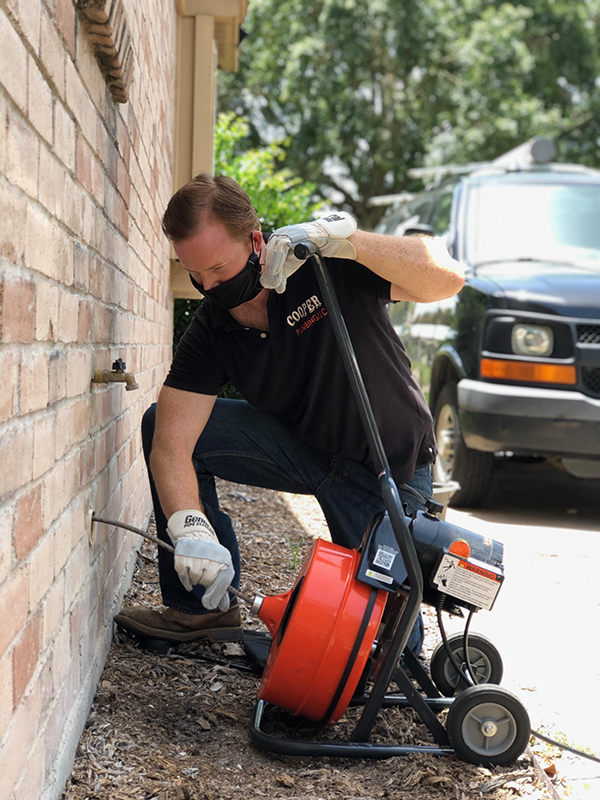 Complete Drain Cleaning Service
Are you experiencing any of these issues with your drains?
*Clogged shower/tub drain
*Clogged kitchen drain
*Clogged wash machine drain
*Clogged lavatory sink drain
*Main Line clog
*Roots in line
*Dislocated drain
*Bellied drain pipe
We understand that keeping drains in your home clear and free from any hair, residue, or clogs can be a challenge. If you need Cypress Drain Cleaning Repair then you are in the right place. With drain cleaning performed by our team we can help keep your pipes clear. Below is some information about types of drain cleaning that we perform:
Bathroom drain cleaning – The biggest challenge customers often mention is the bathroom and trying to keep all the drains free. For example, bathtubs and showers can get stopped up with hair and soaps. Sinks can fill with toothpaste, make-up, beard shavings, etc. Worst of all the toilet can get backed up due to toilet paper, wipes and other items. Our team will be able to perform effective drain cleaning to prevent problems.
Basement and utility room drain cleaning – Often floor drains like drains found in the laundry room, garage, driveway, patio, bathroom or even basement can be blocked up with dirt and debris. These drains are typically equipped with a trap that is kept filled with water in order to stop any terrible odors or sewer gas from escaping. Our team can skillfully open up these drains to efficiently restore drainage.
Outdoor drain cleaning – Obviously, the outdoors and weather Although, sometimes beautiful trees do leave behind certain debris and leaves. Unfortunately, these outdoor elements can clog up your storm drain. This can cause your storm drain system to get stopped up which leads to backup. Cooper Plumbing can clean out your storm drains and any connecting pipes to swiftly restore your drainage system back to its proper functionality. This will allow the system to drain properly around your house and will prevent flooding.
The most common drain services we provide are:
Drain Snaking
Hydrojetting
Drain camera inspection
Hydrostatic tests
Don't wait any longer and contact us today for your Cypress Drain Cleaning Repair needs!