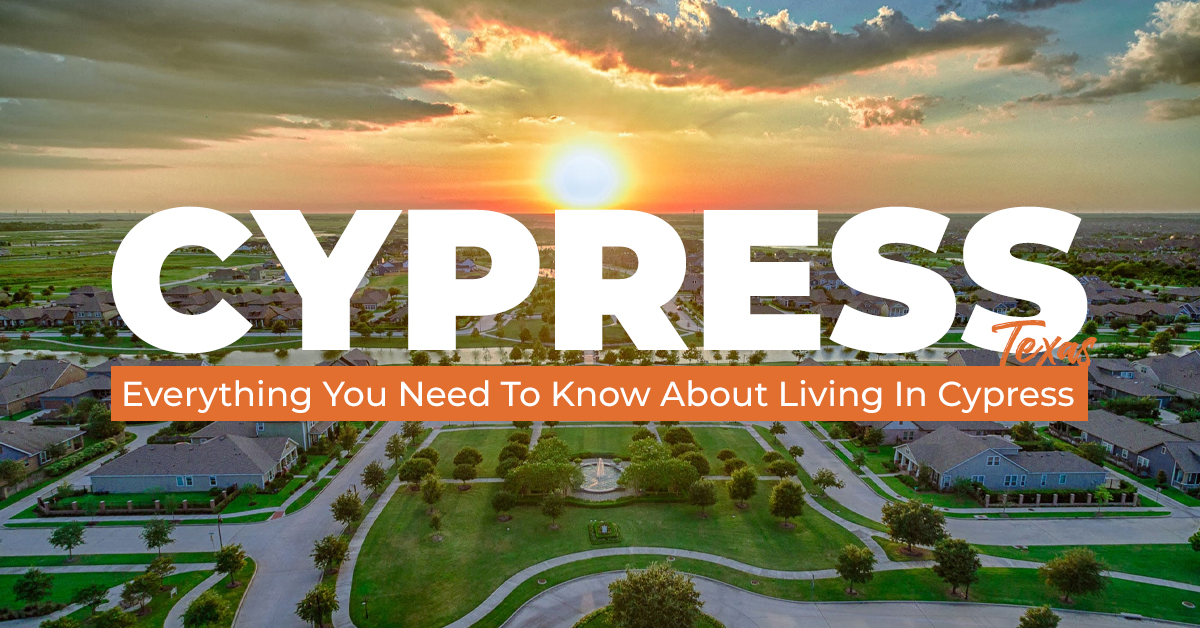 Cypress, Texas – Everything You Need To Know About Living in Cypress
In the 1980's a small unincorporated rural area began to grow its roots in east Texas by evolving into immaculate suburban living. Families and businesses found this to be a great opportunity. They wanted to be able to reside in these beautiful suburban communities without having to tussle with the cost of living or renting inside the large loop of Houston Texas. Soon enough, that small community became the large and vastly popular community we now know and love; Cypress, Texas. As a Cypress Plumber, we know you'll love the area as much as we do.
Cypress, Texas has a rich history that many locals have come to appreciate. Even as far back as 7500 BC, projectile point artifacts have been discovered here at the Diamond Knoll site. The Akokisa and Atakapa tribes were known to have settled in the Cypress area as far back as the 1800's. In the late 19th century, German settlers came in swiftly and began settling along the creeks. These settlers left their influence on the town to this day in the street names (Huffmeister) and even in the names of the schools (Matzke Elementary). 
With only a 25 mile drive to downtown Houston, residences in Cypress can enjoy all of the wonderful amenities provided by their local community, as well as the amenities and perks that Houston has to offer. An added perk is the scenic farms and grasslands are still intact as you take a drive in or out of this gorgeous community. Some communities and neighborhoods even offer their own water features, and multiple parks to visit for a daily jog or hike. Cooper Plumbing covers all plumbing services in Cypress, Texas.
With plenty of local master communities also known as Cy-Fair, there are plenty of picturesque sites to view. Bridgeland is one example of a continuously growing community within Cypress that offers plenty of options for residents who enjoy scenic trails and adventure. From dog parks, basketball courts, skate parks, to canoe launches, this beautiful area offers everything an active resident could enjoy. 
Towne Lake is another local master community that comes with its very own water feature; a 300 acre lake. Residents here can enjoy fine dining while pulling up to restaurants & shopping in their very own boat. Many of these gated communities provide homes with a boat launch on the lake so you can skip the driving all together and even wake up to a view of the sunrise on the water. For fun, this community hosts many fun filled events and even a festive boat parade with residents who have a flare for decoration. In case of emergencies, Cooper Plumbing covers emergency plumbing in Towne Lake, Texas.
Cypress Creek Lakes are absolutely for residents who enjoy a splendid game of golf on a nice sunny day. Black Horse Golf Club is an award-winning golfing facility nestled in the heart of the luxurious 1600 acre community. Players from around the country have played this gorgeous course and the residents enjoy it immensely. This beautiful suburban dream community has its own water features for the locals to enjoy and is surrounded by plenty of large oak trees to give it a naturesque feel. 
The Alder Trails community is rich with entertainment and scenery. With 155 acres of properties and two astonishing lakes, Alder Trails is pleasing to the eye. These beautiful trails lead you straight to the shopping centers and restaurants for the hiking enthusiast who loves to end their walk with a treat. 
For any home issues such as water heater installation and repair in Cypress, Cooper Plumbing has you covered!
You already know that Cypress boasts on being a scenic and beautiful place to live, but what about shopping and entertainment? Cypress, Texas has you covered. If shopping is the name of your game then stop on by the Houston Premium Outlets. Who doesn't enjoy a great outlet store with big name brands such as Versace & Coach or for the cost effective bargain shopper, Marshall's and Burlington.
For the hikers, serenity seekers or bird watchers, come check out Telge Park. This park is 111 acres of hiking trails, biking trails, playgrounds, and scenic spots to just unwind. If Telge Park isn't for you, Dyess Park is a soccer player's dream. This park has 25 soccer fields where friends and family can come to watch their loved ones participate in professional soccer tournaments or practices.
For the extreme animal lovers and enthusiasts, Bear Creek Pioneer's Park has a vast array of wildlife to see with an on site zoo. This aviary and sanctuary are home to owls, macaws, goats, sheep, deer, emus and more. Guests can make it a day with the family as you stroll through this enchanted little animal lover's haven and explore the various species right in front of you.
Another draw to Cypress is the extensive access to education for families. The schools here are ranked very high in the national averages and well above the state averages. The Cypress-Fairbanks Independent school district (CFISD) is the 3rd largest school district in the state of Texas and serves more than 113,000 students on 86 different campuses. 
Cy-Fair has an incredible educational & sports complex facility known as The Berry Center which was named after the superintendent Richard E. Berry. This multi-purpose facility has a total of 4 venues which can accommodate concerts, school theater productions, festivals, business seminars, school competitions, benefits and even sports tournaments. It includes a theater, a stadium that seats 11,000, a conference center and an arena that seats 8,300 people. 
For those who are looking to further their education, there are local colleges in the Cypress area as well. Lone Star Community College houses over 20,000 undergraduate students in Harris County. Located near the Berry Center and off the Northwest Freeway, this campus offers a variety of degree programs including Engineering, Accounting, Biotechnology, Computer Programming, Nursing, Paralegal, and so much more.
For people who want the amenities of Houston but enjoy the scenic suburban lifestyle, Cypress Texas has everything you could want in a community. Not only is Cypress a place for families, adventure, and educational opportunities, it's also a place you can put down roots for your business. With over 125,000 residents and still continuing to grow, this city is beginning to expand right before your eyes as service based industries are popping up all over. Cypress plumbers, electricians, gyms, restaurants, and more businesses are able to serve the locals and watch their business boom in the process. 
Overall, Cypress Texas is where it's at. This community has an incredible chamber of commerce, every comfort and convenience you could ask for, and plenty of homes to choose from as more master communities are beginning to pop up. Be sure to drive in for a visit to see for yourself or ask a local resident about this beautiful place that so many love to call their home!
If you're ready to call Cypress, Texas home or already are a resident, don't forget that Cooper Plumbing is here to help as your Plumber in Cypress. That includes water heater repairs, emergency plumbing, or even repiping.