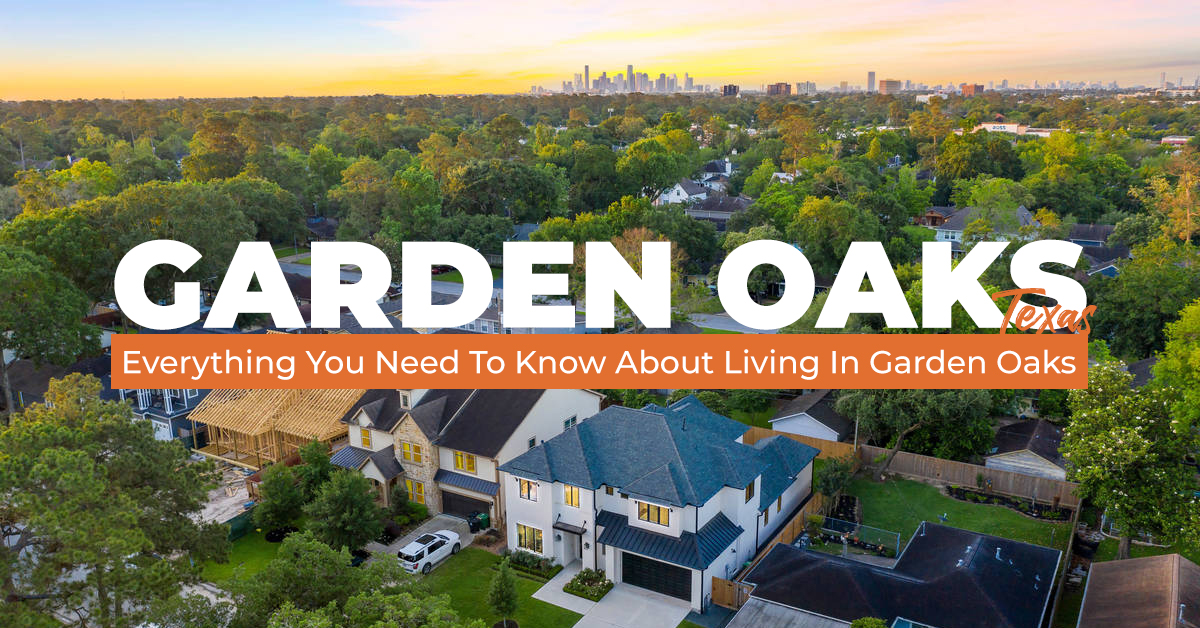 Nestled among the pecan, pine, magnolia, and oak trees is a beautiful community known as Garden Oaks. Named for its arbor ambiance, this beautiful neighborhood can be found north of Houston Heights and also just north of the 610 Loop. Many have flocked here not only for the peaceful scenery but to experience life in these admirable ranch-style homes and bungalows that give a sense of comfortable living.
It was in 1937 that Edward Lilo Crain had the vision to create a new community that Houston could be proud to call home. Crain was a well known local real estate investor, builder, and talented developer. Since he had previously aided in developing Avondale and Southside place in 1924, developing Garden Oaks was the next great step.
His vision was to create the next River Oaks with elegance and luxury being the main theme of the area. The first homes built were plantation-style on generous-sized lots surrounded by numerous trees and late 30's style types of bungalows. These homes provided an opulent atmosphere especially to those who drove by to admire them.
After the war, these types of homes were no longer becoming the central theme and smaller homes with downsized lots began to develop with the aid of the GI Bill. This allowed a more broad range of styles of homes to be built in the area but still maintain the look of elegance that was originally envisioned. This also provided home for Veterans of World War II who were returning home.
By the mid 90's more and more families began to seek out this quiet area to raise their children. This elevated the demand by 2010 and Garden Oaks became one of the hottest neighborhoods in Houston! Eventually as the expansion began and demand rose, condominiums were added as well in order to serve the need to home more families moving to the Houston area.
With families becoming increasingly prominent in this lavish area, the best schools became essential. One of the first and more well-known schools in the area was Garden Oaks Elementary. Soon after, the Garden Oaks Montessori Magnet School began development. With the demand being high, applications were thoroughly reviewed before kids could be qualified to attend. This covered children from the age of kindergarten to 8th grade.
This led residents and Houston Independent School District to propose that all of the Garden Oaks Elementary, become a Montessori with proper funding of course. This became a great divide and debate in the Garden Oaks area but was later resolved with a grant from the Magnet School Assistance Program. Extensive building improvements were made and the Garden Oaks Montessori building received the much-needed expansion project to benefit the children, educators, and nearby community.
Another nearby elementary school is known as Durham Elementary. This covers children from the ages of preschool through 5th grade. For middle school students, Black Middle School is right around the corner and conveniently located for parents in the heart of Garden Oaks. For high school-aged students, Garden Oaks presents two choices depending on where you are zoned. This would be Waltrip High School and Booker T. Washington High School. With so many educational opportunities with these wonderful schools, families can rest assured that moving here is a great choice for their children.
Garden Oaks Community Features
If you arrive in Garden Oaks, the first noticeable feature is the vast array of gorgeous trees. The large oaks, pines, magnolias and pecan trees fill the yards and surrounding area, making you feel as if you are residing in a forest setting. Generally the scenery here sets the mood for a quiet life among the trees.
Another pleasing feature is the beautiful river also known as White Oak Bayou. This Bayou runs through Garden Oaks and simply adds to the natural beauty of the area. This wondrous slow moving river eventually serves as greenway and as a gorgeous ambient place to take walks by.
Currently Garden Oaks is also located near a community park called American Legion Park. This park is currently getting ready to get a makeover in all the best of ways. The playground there is perfect for families with small children and walking trails have been proposed to encourage local residents to get some fresh air during the day.
The large grass fields have been wonderful for the local sports teams to practice on and have been quite a draw for community events as well. With the new revitalization project being proposed, all these wonderful amenities will get the much needed improvement and care that everyone is hoping for. Other parks and recreation nearby are:
Pocket Parks
The Community Garden
Garden Oaks Boulevard Esplanade
Spark Park
Graham Park
Art Park
Another wonderful community feature is the Garden Oaks Civics Club. Those who enjoy volunteering in their neighborhood and organizing fantastic events will truly enjoy what participating in the civics club provides. Connecting with neighbors is of great importance in this club. From the Wakefield Shuffle to the monthly meetings at the Great Heights Brewing company, the Garden Oaks Civics Club is truly a great way to provide unity in the community.
The Wakefield Shuffle is one of the latest events that happens in the Garden Oaks community. This event is focused on socializing with your neighbors while enjoying fantastic drinks and wonderful food while supporting the Garden Oaks Constable program. By purchasing a wristband, community members can participate in a fun filled fundraiser and enable the Garden Oaks constables to keep patrolling the neighborhood as well as serve their neighborhood.
Another fantastic event is the Wine Walk. This event also greatly benefits the Garden Oaks Constable program as well. A beautiful array of wines are presented with 11 different table hosts and even beer tasting from Beer and Wine Bistro with tickets being purchased to participate. At the end of the event, with ticket purchases, you can even win a bottle of wine at the drawing at the end.
Other events continue to focus on community and meeting your neighbors such as Neighbors Night Out. With the similar concept of everyone coming together to get to know people in your neighborhood, this event takes place in October to give everyone a chance to say hello in much cooler weather. From seven to ten in the evening, neighbors and local constables are encouraged to not only meet each other, but to also present a united front when it comes to keeping the community safe.
Garden Oaks was created with a unique vision combining beautiful scenery in the trees and homes that rival opulent neighborhoods like River Oaks. This evolving neighborhood grew to be a community of families with great schools and a quiet ambience that kept expanding as time went on. With many events supporting the local constables, this neighborhood spends much of it's time focused on putting the unity in community.
77018 , 77091 , 77092