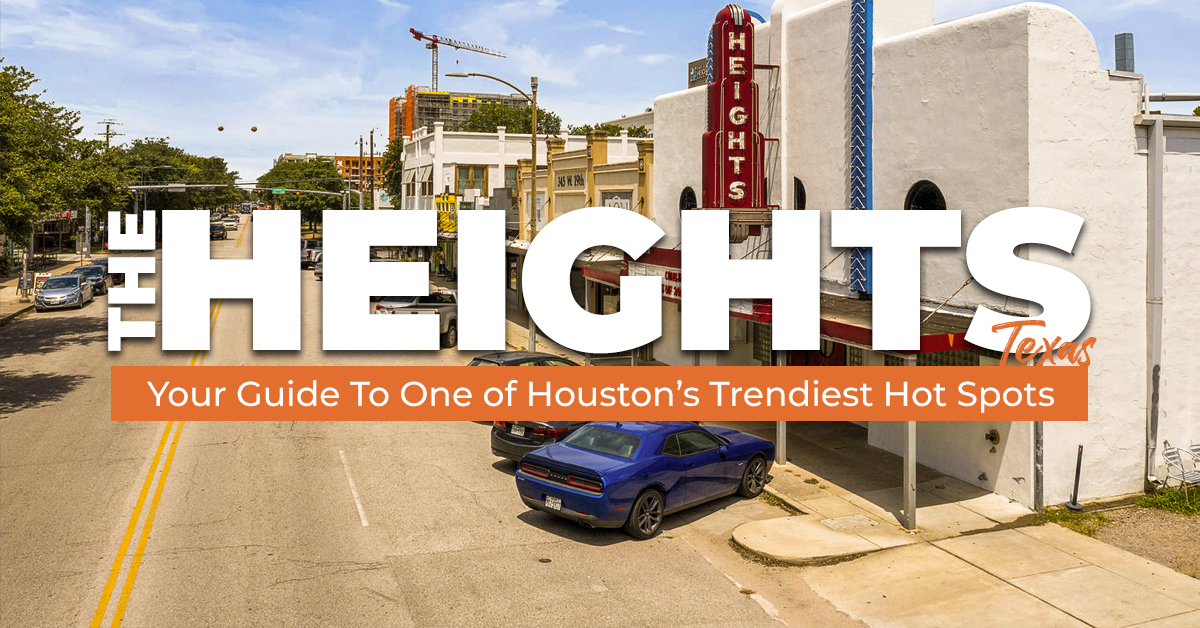 Houston Heights – Your Guide To Houston's Trendiest Hot Spot
As a Houston Heights plumber, we've gotten to know The Heights really well. The Houston Heights, located just Northwest of the hustle and bustle in downtown Houston, has become one of the trendiest and most charming areas to be found in East Texas. People from all over flock to this beautiful neighborhood for its eccentric beauty, deep rooted history, fabulous historic architecture, incredible diversity, and popular hangouts. For those who love to be close to the city but prefer a trendy neighborhood vibe, the Heights are for you!
Houston has such a rich and fascinating history and the Heights are certainly no exception to this. Beginning as a streetcar suburb in the late 1800's, many needed to travel to the city but didn't want to reside there. Oscar Martin Carter had a unique vision for this community as the 20th century approached so he worked his magic to convince other investors to journey with him as he laid out his plans. Little did he realize how much growth would actually happen in this beautiful community.
Victorian style architecture was put in to place along Heights Boulevard and gorgeous landscaping which made the streetcar rides a beautiful way to travel to and from the city. With over $500,000 used for improvements, the Heights became a main attraction for families and visitors alike. Heights plumbing services soon became a need for the growing community. Commercial strips soon being added in gave this beautiful area much needed commerce for the new residents. 
The Heights gained its unique name because it is actually elevated 23 feet above downtown Houston itself. These lush green acres gave plenty of scenic views for locals along with social and civics clubs being added. After being annexed in 1919 years went by and World War II ended. This was even before Gas and Sewer lines were needed in Heights Homes. However, soon industrial interests began to boom locally which led to zoning issue concerns.
After the 70's came and went, young professionals and historic societies came in to restore this previous suburbian utopia and began to revamp it. With many homes and properties being listed on the National Register of Historic places, the Heights began to see new life. The homes began to get renovated with new luxuries like dishwashers and hot water heaters that Heights Plumbers would install. With its new residents and historic preservation in place, this Houston area treasure has become trendy and iconic.
The Heights has numerous draws that keep people coming back to explore. Some of the main reasons people visit:
Art Exhibits

Restaurants

Trendy Coffee Shops

Festivals

Music

More…
The Historic 19th street has been one of the many places visitors rave about. This street is bustling with an extravagant abundance of art exhibits to keep even the novice art enthusiasts entertained. Even the unique Art Car Museum can be enjoyed by people of all ages and backgrounds.
This corridor is not just for art lovers but is thriving with thrift shops for the nifty shopper, coffee shops for the java lovers (Boomtown Coffee), and restaurants for anyone with an appetite for tasty dishes. You'll often find quite a few yearly events here as well just in case anyone needs another reason to stop back by.
You don't have to go to a museum to appreciate the art here. The Heights has plenty of beautiful art murals to gaze upon in so many unexpected places. It takes but only a moment to gaze down an alleyway, a sidewalk, or side of a building to see beauty displayed as you walk down the culturally rich streets.
If you are a music lover and appreciate being entertained, the White Oak Music Hall hosts a wide variety of bands and live entertainment of all genres. This music hall presents a beautiful view of the Houston skyline as you are wonderfully entertained. The Heights Theater is one of the oldest music venues in the Heights but definitely one of the most appreciated for its historic aspects and current satisfying acoustic indulgences.
For nature lovers and those who appreciate the scenic beauty the Heights offered in its original design, residents can enjoy Donovan Park. In 1996 residents put on the hard hats and began to work on this incredible playground! This unique recreational land of imagination was put together to bring the community together for family fun! For adventure seekers or health enthusiasts, the Heights Hike and Bike Trail provides a scenic route to explore as you work on your fitness.
No matter what time of year it is, the Heights always has an event or exciting adventure to be had. You don't have to be a local to venture here to enjoy some of the greatest and most entertaining celebrations to be had. From Happy Hour parties, to crawfish boils, to seasonal gatherings, this vibrant neighborhood is flowing with happenings that keep people talking.
White Linen Night in the Heights is held the first weekend in August as a yearly social soire where local residents gather in their white garbs to deflect the seering heat of summer. This is traditionally known for New Orleans residents but was adopted by locals in Houston. You can find lively entertainment, art exhibits, tasty food, and delicious drinks as you stroll along and socialize at this yearly festival.
Christmas in the Heights is for the seasonal holiday lovers and is also known as Lights in the Heights. This free event allows the Houston residents or visitors to stroll along the neighborhoods with beautiful extravagant lights displays to show their holiday spirit. Each year there is a wonderful parade for all to enjoy, holiday caroling, and much more to experience. If you are feeling extra jolly, the Heights Mercantile Holiday Market is available for all the unique Christmas gifts you need for family, friends, coworkers, and loved ones.
Overall, living in the Heights can be an absolutely wonderful experience and for visitors, it's never a dull moment to be had. From its very elegant beginnings, to its current trendy state, the Heights has become a place to call home for so many Houston residents looking for a change of scenery. If you happen to own a historic heights home, make sure to keep an eye out for low water pressure, if your water gets cold, or you see rust-colored water. These could be indications that a heights house repiping could be in your future.
If you haven't experienced this vibrant hot spot, mark your calendars and make the trip. Nothing here screams dull or boring as you can always find something to do in one of Houston's trendiest hot spots around.
77007 , 77008