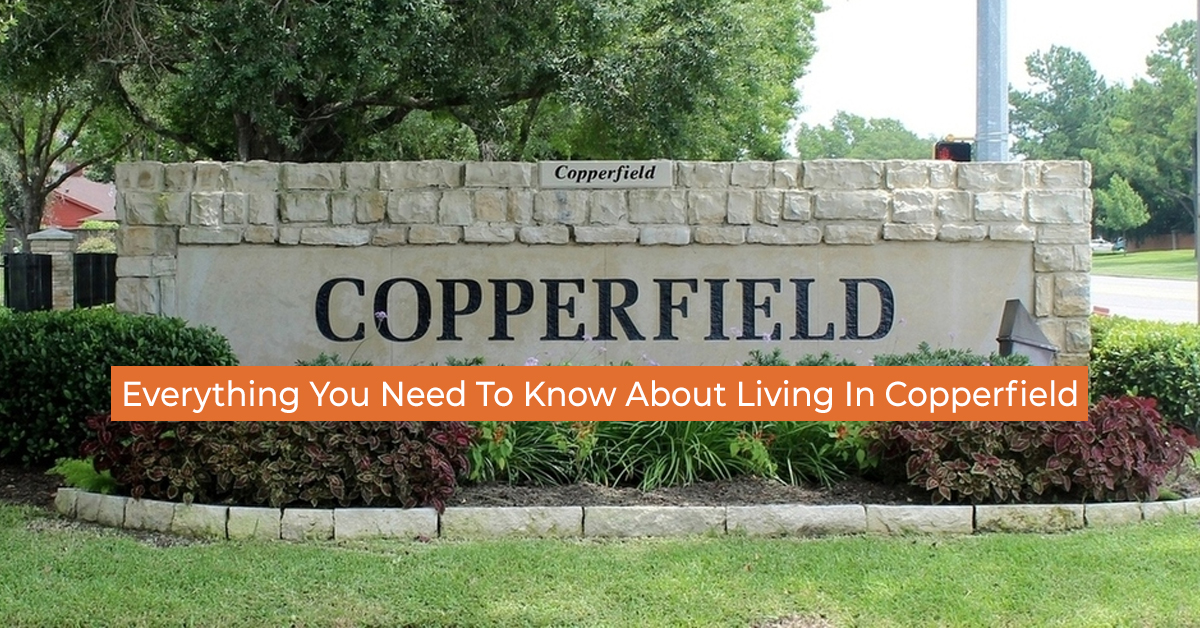 Welcome To Northwest Houston Living in Copperfield, Texas
Many communities in Houston catch people's attention, and Copperfield is no exception. Tucked neatly into Cypress between Highway 6 North and Highway 290 is a 2,000-acre master community filled with beautiful homes, beautiful yards, and eye-catching parks. This perfectly placed northwest neighborhood is bustling with entertainment, restaurants, top-rated schools, and easy access to numerous Houston attractions. Thus making it quite the draw to people wanting to settle into suburban living.
In 1977, Friendswood Development began to take interest in a 1,800-acre plot of land that was also known as the Gus Wortham Estate. Gus Sessions Wortham was a well-known Houston businessman and civic leader so purchasing this estate in this picturesque location just made sense for the future development of Houston. Shortly thereafter, homes were developed and the community began to grow at a faster pace than expected.
The Friendswood Development Company took the next logical step and purchased an additional 260 acres of land to accommodate such incredible growth in 1989. As more homes were being developed and the community began to expand its home-buying needs, Standard Pacific of Houston came along to begin work on Copperfield Place Village after purchasing 70 additional acres of land from Friendswood Development.
 This paved the way for the building of 265 additional homes for Houstonians. With the combined efforts of these companies, Copperfield emerged to become what it is today; a Houston community that continues to flourish and expand.
Copperfield boasts 7 beautiful communities nestled in Northwest Houston. They are:
Copperfield Place

Easton Commons

Middlegate Village

Northmead Village

Southcreek Village

Southdown Village

Westcreek Village
Copperfield Place
Copperfield Place is the newest and most recent addition to the Copperfield neighborhoods although it found its start in 1992. This darling neighborhood has terrific amenities such as a large swimming pool, jogging trails, and incredible parks for those who enjoy the fresh outdoors. The average home here is perfect for a small family with 3 and 4 bedrooms being typically found in this area.
Easton Commons
This adorable neighborhood has quite charming scenery. One of the notable features that can be seen is the eye-catching gazebo. This is beautifully displayed next to the scenic park and playground for the younger neighborhood residents. Community events here are in abundance with volleyball games, seasonal celebrations, and pool gatherings. If you are a bird lover, egrets and night herons come in with the season and nest nearby.
Middlegate Village
In this appealing community here in Copperfield, you can find the nearby park as one of the major attractions. Surrounded by intricate landscaping and statues, Middlegate Village brings onlookers from afar and other nearby communities. For Fall festivities this neighborhood gathers for the yearly garage sale event. For the holiday season, Santa comes to town and the community all stops by to see him. For those who enjoy family gatherings, Middlegate loves to host movie nights for all to come and see.
Northmead Village
This quiet yet growing community sits in the heart of Copperfield. Located next to the Aberdeen trails, residents here enjoy the scenery and pleasant walks nearby. When the weather is less than ideal, the local gyms such as Planet Fitness close by offering great deals for their local patrons. With over 958 residents here, many first-time homebuyers found this community to be great for a startup home.
Southcreek Village
With over 1500 homes in this vast community, residents here have a vast abundance of amenities to occupy their time. This community has not one, but TWO incredible pools. Both are  conveniently located for homeowners to enjoy with all ages. Not too far away, the Southcreek Gazebo can be seen for locals to enjoy as well. If you are into health, fitness, or need the break from your day, you can enjoy 5 miles of trails for running, walking, or briskly walking through.
Southdown Village
Like the other communities in Copperfield, Southdown Village has a neighborhood pool as well. Neighborhood children find it easy to walk to as well as their local elementary schools nearby.
Westcreek Village
Between Barker Cypress and Queenston Blvd, you can find Westcreek Village. This smaller community still provides a local community pool for residents and community members also enjoy their local garage sales to bring everyone together. 
As far as the local education goes, Copperfield has an excellent advantage being part of the Cypress Fairbanks Independent School District. Many of these schools are award-winning and have received blue ribbons as well. Some of these schools are Aragon Middle School, Birkes Elementary, Cypress Falls High School, Langham Creek High School, Spillane Middle School, and more.
For those looking for education after high school is done, Lone Star College is nearby to provide a vast array of opportunities. Residents don't need to drive for hours or even leave the state to get their degrees in their own backyard.
Inside each community, Copperfield provides so many activities within their very own villages. For local sports lovers, Copperfield has 2 baseball fields that residents can reserve for their team practices or games. Nothing brings together people like a great game of baseball and community unity. For other non-sporting gatherings, there is a local community center. This center can be reserved for parties, meetings, or friendly get-togethers.
For local events, be prepared for community garage sales, yoga, ladies' night out, book clubs, crafts, pool events, bake sales, and even small jazz concerts. When the season changes, holiday festivities begin. Christmas comes to the Copperfield gazebo as everyone comes to get pics with Santa and his friends! When it comes to light displays, the Festival of trees is on display. For those who enjoy organizing these fun activities, residents are welcome to join the events committee.
For Houstonians looking for a tight nit community in the Northwest area, Copperfield has a vast array of villages and neighbors who enjoy the plentiful amenities. From nationally recognized schools for all ages, to beautiful scenic jogging trails, Copperfield has it all. 
77095