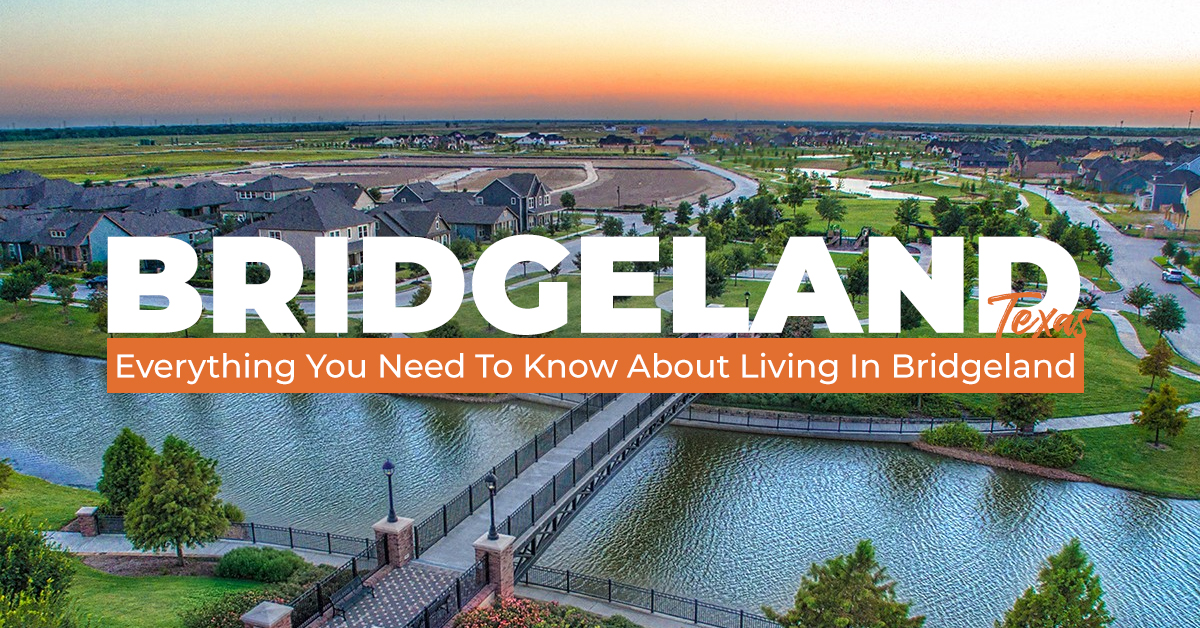 Bridgeland: Where Nature Meets Community
The Houston population is ever-growing rapidly as more people come to the great state of Texas to call it their new home. Whether it's the price of homes, the warmer weather, job availability, or even the Southern charm appeal, people are packing their bags to search for greater opportunities in one of the largest states around. Although it's no surprise that Texas is a top-tier choice, folks have been clamoring for a neighborhood filled with amenities but close to nature as they begin to settle in. Lucky for them, this southeast Texas community just outside the Northwest area of the Houston city limits has it all! Welcome to Bridgeland!
In the mid-1800s this beautiful stretch of land was home to mostly rice farmers and many European settlers. Eventually, this land evolved into a more profitable venture with raising cattle in the 1940s as the rice farms began to cease production. This absolutely beautiful terrain was home to creeks, lush grasslands, and acres of picturesque peaceful scenery.
Naturally, developers saw over 10,000 acres of land as a unique opportunity for a community to come to life but also to preserve this scenic acreage along the way. With businesses growing in Cypress, Katy, Houston, Tomball, and other surrounding areas, it seemed to be a no-brainer to provide homes in a new area for residents. With the demand for business beginning to rise, and the population beginning to expand further out from the inner loop, the area we now know as Bridgeland was purchased in 2003 with a grand plan beginning to unfold.
The number one goal, of course, was how to conserve this beautiful area and still provide a place to live in harmony with the natural surroundings intact. Very thorough environmental studies were conducted to ensure that at least 3,000 acres of natural open space would be kept completely preserved, while home development would commence preparing new residents to come venture to see this place for themselves. In 2006, in the blink of an eye, the development of this exceptional master community made way, and new homeowners were already unpacking the moving trucks in their driveways.
Lakeland Village
This beautiful community inside of Bridgeland was one of the very first of the villages to begin its development. With over 3200 magnificent homes for people to reside in, this beautiful village houses delightful friendly neighborhoods such as Hidden Creek, Lakeland Heights, the Shores, First Bend, the Cove, and of course Water Haven. Lakeland Village is well known for its very spacious accommodations and stunning waterfront lake views. With the surrounding neighborhoods being centered around this spellbinding landscape, this section of Bridgeland boasts several parks that beckon every neighbor to come to take part in enjoying the tranquil views. Some of these parks are:
Treehouse Park

Oak Meadow Park

Water Haven Park

Lakeland Village Park

Festival Park
Along with these amazing parks providing a serene retreat, other developments have begun to take their way. For example, House Hahl Trail is currently in development. Another scenic route to take would be Cypress Creek Nature Trail and other areas are in discussions as well.
With plenty of local master communities also known as Cy-Fair, there are plenty of picturesque sites to view. Bridgeland is one example of a continuously growing community within Cypress that offers plenty of options for residents who enjoy scenic trails and adventure. From dog parks, basketball courts, skate parks, to canoe launches, this beautiful area offers everything an active resident could enjoy. 
If you live in Lakeland Village and have an emergency plumbing issue, Cooper Plumbing is here to help!
Parkland Village
Parkland Village holds true to its name being that it was developed to feel as if you were living inside a park itself. The Parkland Activity Center is filled with fun activities and there's so much more for the locals to enjoy.  Some of these amenities are the beautiful leisure pool, a relaxing lazy river, a fitness center, kayaking, basketball courts, tennis courts, and even dog parks. The list goes on and on for all levels of entertainment seekers. 
One of the most interesting tidbits about Parkland Village was how its linear park systems were designed to have the same feel as the Emerald Necklace Conservancy in Boston Massachusetts. Keeping with not only preserving the surrounding nature but this area of development is well known for highlighting areas of history with its street names and points of interest.
Looking to repair or replace your water heater in Parkland Village? It's one of the many services Cooper Plumbing offers.
Prairieland Village
As Bridgeland was beginning to unfold and expand with the Howard Hughes Corp. leading the way, the third community known as Prairiland Village began to emerge. Jim Carman from this company was quoted to say, "Bridgeland is designed to foster a balance between the natural and built environment, creating an ecosystem that allows all who reside within the community to live and thrive in harmony." Promoting physical fitness along with mental health aspirations too, this community was developed with a unique approach to living WITH nature and preserving the overall wellness of each community member.
The path to get to a state of overall well-being began with developing nature trails, bike trails, and hiking paths. These paths would have a fantastic view of recreational lakes, canoe/kayak launches, playing fields, and playgrounds for families to enjoy. With space enough for over 26,000 new homeowners in mind for the ultimate goal and a diverse range of home pricing, Praireland Village is a great place to connect to other communities, nature, and yourself.
Do you live in Prairieland Village and have a clogged drain? Cooper Plumbing can help with that!
Creekland Village
They say to save the best for last and Creekland Village being the fourth and final community is no exception to that rule. Located in the Northwest section of Bridgeland, this village is set to house close to 3,000 newly developed homes right next to its neighbor Prairieland Village to keep its deeply connected community feel. Homes are not the only thing being developed here. Commercial spaces are on the rise here as well giving new amenities, job opportunities, and learning centers for the local youth.
The well-known public charter school known as Harmony Public Schools will begin breaking ground here along with the Cypress Christian School. Waller ISD is currently developing elementary schools to educate the new population in 2024-2025 as its progress continues. The middle school and high schools won't be far behind with their scheduled dates of opening to be estimated around 2027.
Like many of the other Bridgeland communities, Creekland Village is boasted to present a synergistic ecosystem combining health, nature, and overall well-being with all of its new residents. By the Spring of 2023, local communities will begin to see what the local hype is about as the buildings go up, and the people start to plan their future in their new home of serenity.
Bridgeland Recreation and Dining
One thing can be said of living in Bridgeland, there is never a shortage of things to do here from sunup to sundown. One of the centrally focused places of interest is Dragonfly Park. This park seemingly has it all. Twenty-five acres of fun-filled leisure such as a fitness center, a lazy river with a beach entry, a spray pad for the kids, flex rooms, tennis courts and so much more. With over 60 miles of beautiful hiking and biking trails surrounding the park, anyone looking to connect with nature will have ample opportunities to do so.
For the kids, nothing says adventure like going to a treehouse park. Bridgeland has an award-winning 2 story treehouse, tucked away in Hidden Creek. This treehouse is a throwback to the rice farming days with its nostalgia and design. Children aren't the only ones who flock to this concealed wooden treasure. Adults have found it to be an excellent place to watch migratory bounds in a peaceful environment as well.
When it comes to local dining, more and more restaurants are calling Bridgeland their home. For example, for an organic mix, Local Table is not too far away with its brunch, vegan options, and fantastic drink menu. For authentic Tex-Mex cuisine, look no further than Juanita's Mexican Kitchen next to the outlet mall. Run by the Nuñez family, Bianca is always welcoming with their hand-crafted margaritas, delicious barbacoa tacos marinated for over 6 hours, and a pretty awesome brunch menu that is quickly growing in popularity with the locals. For a bit of a European flare or for those who are big fans of crepes, don't forget to check out Nyam Nyam Cafe. Mikhail and Natasha treat everyone like family and their recipes are beyond compare. Everything is authentic, made fresh, and even offers gluten-free items to boot. This place has become such a fan favorite that even celebrities will pop in on occasion!
For that future homeowner who wants to get away from it all but still wants to have it all, Bridgeland could be the perfect place to hang your hat at the end of the day. Being close to nature and having a neighborhood community that comes together is ideal for many who want to raise families, get healthy, or just find a serene environment to connect to themselves after it is all said and done. Bridgeland is over 11,000 acres of residents who want to enjoy all that this picturesque place has to offer while enjoying such incredible outdoor amenities. Known as one of the leading master-planned communities in Houston, Bridgeland has become one of the top-tier sought-after living spaces around.
77433