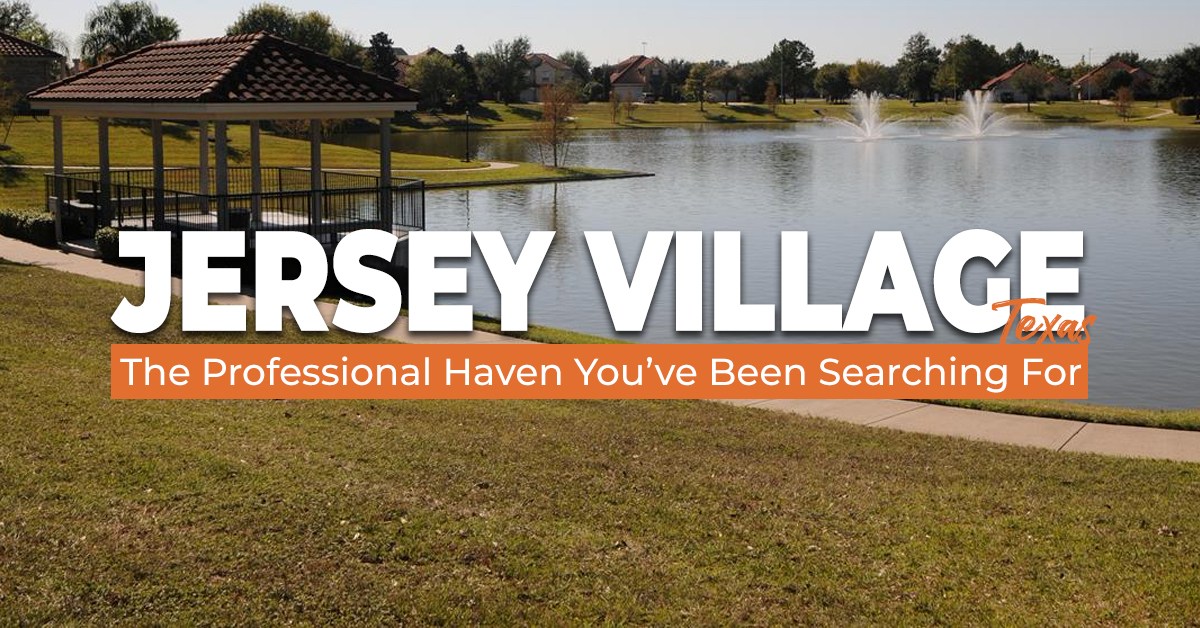 Jersey Village – The Professional Haven You've Been Searching For
In West Central Houston, with a population of almost 8,000 residents, lies a wondrous haven for professionals and families who call Jersey Village home. This popular suburb has been known as one of the best areas to work and one of the best areas to live in as well. People often come here for the incredible diversity, endless community support, cost of living, low crime rates, and the short commute to downtown Houston areas. With work being a short drive away because of plenty of job opportunities available in the area, Jersey Village has become an ideal professional community to put down roots. One of the best professional services, Houston plumbing services!
Unlike some of Houston's more established counterparts, Jersey Village began in the 1930s on 1,236 acres of land used for dairy and cattle. Mr. Clark W. Henry had quite the successful business, also known as F&M Dairy, on his property until his health took an unexpected and detrimental decline. His business didn't just provide dairy, but also allowed the public to view the dairy milking process from behind glass doors. He even offered children's entertainment with pony rides and freshly made ice cream. Sadly with his health in jeopardy, he knew he would no longer be able to sustain his business the way he did for so many years before. 
Luckily, he began to make plans to continue bringing joy to his community by turning it into a place where Houstonians could now call home. For this next significant residential venture, Clark Henry decided to partner with his fellow church goer Mr. Leroy Kennedy. In 1954, their partnership flourished and the City of Jersey Village came to be. With the success of Mr. Clark Henry raising jersey cattle, the name Jersey Village seemed appropriately fitting.
With drainage being put in, streets being built, clean water added, and the lights coming on for the first time in October of 1954, the very first family unpacked their bags on Jersey Drive. They opened their doors and moved in as the first residents of the new Houston suburb known as Jersey Village. On April 16, 1956, they finally became officially incorporated with 58 votes approved, soon followed by an election for their first mayor and five city council members. 
Business professionals have always enjoyed having a great community to live in as well as work in. With a vast array of commercial businesses growing in Jersey Village, finding a place to earn a living is far from being a challenge. From larger corporations like Geospace Technologies to local hard working service industry-based businesses such as Cooper Plumbing, this city has provided a vast array of employment opportunities for its residents.
For those looking to start a business or other enterprising professionals seeking a new adventure, Jersey Village has long been known to welcome new economic development. Harris County has always been a place of growth and fantastic beginnings for so many industries. 
Retail & software development companies have often called Jersey Village their home while other major corporate headquarters have found themselves putting down roots right around the corner. This incredible Houston area has even earned the Transparency Star from the Texas State Comptroller for Economic Development Transparency. 
With families growing and making Jersey Village their home, providing the right educational opportunities for everyone is vitally important. For families with young children, this city boasts highly rated schools to provide a fantastic education. For these eager adolescent minds, you can find schools such as Cook Middle School and Harmony School of Excellence. For the slightly older youth, Cypress Falls High School and Jersey Village High School boast a 3+A rating. 
For those who seek to continue their education after high school, Lone Star Community College is not far away. Lone Star College Cy-Fair offers custom training, business courses, petrochemical, construction trades and so much more to help students branch quickly into the career of their choice. 
With professionals, families, and future residents migrating to this popular Houston suburb, entertainment and fun are next on the agenda. Luckily, Jersey Village has plenty to do for all ages, genders, and demographics. Whether you enjoy activities that are sporty, or have a more leisure approach to enjoyment, this area offers up a multitude of options. 
If it's active recreational activities you seek, Jersey Meadow Golf Course is available for 18 holes of adventure for a great price. For beginners, they also offer golf lessons as well as a junior golf school for young golf enthusiasts. For the ladies, a special class is available for them as well whether they are beginners or intermediate. During the summer, special golf camps are available for kids and teens to learn or improve their golf skills. 
The Hearthstone Country Club has much to offer for fun activities for the Jersey Village community to enjoy as well. Not only do they offer golf, but they also offer tennis, a large swimming pool, dining on site, and gym amenities for those looking for an overall active lifestyle approach. 
On the first and third Sundays of the month Jersey Village offers a bountiful farmer's market. They encourage their local community to come out to support their local businesses, eat fresh, and have a fantastic time supporting their neighbors!
For the local nature lovers, there are quite a few parks and sights to choose from.  The Willowlake Jogging Trail and Duck Pond give a beautiful view for residents who love to jog or walk outdoors. There's also Clark Park and Metzke Park who have terrific playgrounds for young children to enjoy and families have plentiful spots for picnics. The parks not only provide excellent recreation, but they host numerous activities throughout the year such as 1.5k running events, and a doggie dip day in the local park pool!
The local civic center is another great spot for local community events as well. Some examples of some of the events hosted here are:
Art Classes

Senior Fitness Class

Storytime 

Family Concerts

Themed Parties

Farmers Markets
Jersey Village overall, is an excellent place for Houstonians to call home. This suburban area is rich with a colorful history for all to enjoy.  With an abundance of job opportunities for residents, new homeowners can come here to work as well as live. Even the highly rated schools have made locating here with children a very smooth decision. Not only are the careers and families flourishing in Jersey Village, but there are endless community activities available to keep everyone entertained.