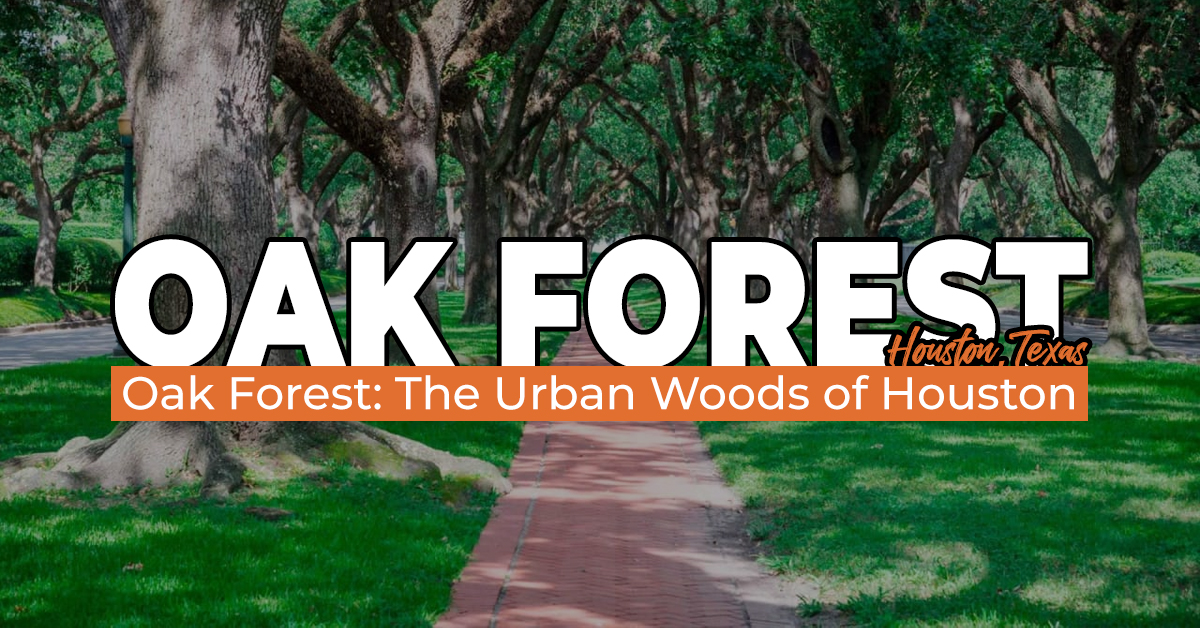 Oak Forest: The Urban Woods of Houston
One of the largest subdivisions in Houston Texas is also among the friendliest communities you can find in the area. With arms outstretched and smiles abundant, this beautiful area just north of the 610 Loop welcomes newcomers and neighbors alike. Although this gorgeous neck of the woods has almost 6,000 homes and over 20 acres of parks to enjoy, coming home to Oak Forest feels almost like you are attending a small-town social event.
In the 1940's Houston almost tripled in size. New communities were developing all over and with the new Texas Medical Center being built as well as the Petrochemical complex breaking ground the demand for homes was quickly on the rise. Oak Forest soon emerged from the trees in 1947 to house new families and give birth to a vibrant new community.
Frank Sharp had a vision to create a beautiful neighborhood in Houston that gave homeowners a sense of being in nature with surrounding trees and as an extension to the Northwest beyond Garden Oaks. Around 4,780 lots were laid out and plans began to come together. Much like Garden Oaks, frames, cabinets, doors and more were precut which helped speed up the building process entirely. At first only one section was built in, but later 17 more were added on.
With peak production of twenty four houses being built per day, Oak Forest was quickly growing faster than almost any other community that came before it. Not only was this neighborhood fast growing, but in 1948 Better Homes & Gardens magazine actually featured many of the homes in this breathtaking neighborhood. This helped Oak Forest soar in popularity and it was quickly dubbed ""one of the largest privately financed, single-family home developments in United States or world history."
It wasn't a surprise that these homes were featured in magazines and well sought out. The large windows and colorful walls inside drew homebuyers from all over. Each house was so unique around each corner while other neighborhoods seemed to boast homes that began to look unoriginally similar in style. This drew in people from all backgrounds, especially Polish & Czech Texans, from the more rural areas.
In 1949 it became officially annexed by the city of Houston Texas. Over 23,000 people called this area home as it grew in size. Soon after homes began popping up in great numbers in the 1950s, Sharp was looking to make even more of a profit. This meant building doctor's offices, lawyers' offices, dentists, jewelers, plumbing services, and more in a new shopping center. They even had a general merchandise store as well as a delightful bakery. With his ambitions continuing to grow, Oak Forest was even deemed as the Suburb of Tomorrow by many with its future looking quite bright.
Eventually, in the year 2000, a new type of homeowner began planning to move to Oak Forest and families who couldn't afford Montrose were finding solace here. These were deemed as creative types and those who wanted a place to begin as their forever home. Even by 2005 home sales began increasing by over 5 percent and more people were drawn to the incredible amenities and great location.
Currently, to date, people often compare it to Bellaire with its small-town feel but with even more affordable home prices than other suburbs. What's even more amazing is that even some of the original homeowners still reside there to this very day. Even with newcomers breezing in, this area always has been and always will be colorfully diverse in age and background.
Green spaces and captivating sights are one amenity that Oak Forest's residents enjoy tremendously. The lots here are generous in size and the streets are lined with picturesque trees giving it a unique Oak Forest feel. To keep the natural vibrance going, many parks were built here for everyone to enjoy. Some of these parks are:
Memorial Park

Oak Forest Park

Candlelight Park
Memorial Park is certainly one of the most impressive parks you can find in Oak Forests. Not only is it Houston's largest park but it is incredibly almost DOUBLE the size of New York's Central Park. This park is where many come to play, hike, and enjoy the beautiful outdoor scenery. Oak Forest residents find solace here and even enjoy the fun-filled events hosted here as well. Memorial Park also hosts fitness and wellness classes posted on their conservancy website. With all of the available playgrounds and sports fields, it's definitely worth bringing the kids in the neighborhood out to visit.
Oak Forest Park is a welcoming park with playgrounds for children with all abilities and disabilities. Thanks to the revisions done with the "More Than IWay 2Play" campaign, Oak Forest Park became the first inclusive public playground in Houston. With updated basketball courts, added picnic tables, new benches, fountains, and more, this park is a gorgeous haven for everyone.
Candlelight Park is a scenic community retreat with a fun-filled playground, a community center, and an outdoor basketball pavilion. The community center of Candlelight Park is a wonderful place to host weddings, family events, and fantastic parties. The shaded pavilion with the picnic tables is a wonderful place to host a family picnic and the playgrounds add to fun and adventure for the little ones. For rainy days, Candlelight Park also has an indoor gymnasium as well.
When it comes to dining, Oak Forest has a vast selection of places to get your grub on! If you enjoy BBQ and flavor, get ready to get your hands dirty as you dive into ribs & brisket at Gatlin's BBQ. The ribs here are beyond plump and are largely beyond comparison. Done in traditional St Louis-style, the food here is definitely worth a try. If you love dessert, their bread pudding is certainly worth trying for yourself.
For those who shy away from meaty options and prefer a vegetarian choice, Govinda's Vegetarian Cuisine is fantastic. They dedicate their menu and dishes to healthy living and healthier lifestyles. They boast of using the freshest ingredients and a wide variety of delicious vegetarian options for everyone.
Dining here can absolutely feel as if you are an authentic world traveler with so many worldwide cuisines available. Travel across the ocean to Aladdin Mediterranean and then drive-thru a Vietnamese restaurant called Saigon Hustle. For delicious Tex-Mex, look no further than Valencia's Tex-Mex Garage. They are great for happy hour and boast some VERY strong margaritas.
Oak Forest is specifically zoned to (HISD) Houston Independent School District in Houston Texas. Many of the public schools here are highly rated, especially Oak Forest Elementary. Other Elementary schools in the area are:
Garden Oaks Elementary School

Katherine Smith Elementary School

Stevens Elementary School

Benbrook Elementary School

Wainwright Elementary School
For middle school students, there are two presented choices. One is Clifton Middle School and the other is Frank Black Middle School. Both are together on the same property conveniently.  For high school, the choices are  Waltrip High School which serves the east portion, and Scarborough High School for the west portion.
Not all of the school options for students of Oak Forest are public. Some are private as well. One of these schools is St. Rose of Lima Catholic School. Focusing on faith and tradition, St. Rose of Lima offers educational opportunities for kids from PreK to 8th grade.
Oak Forest is a scenic family oriented community with a deeply rich history behind it. The founder, Frank Sharp envisioned a small town feel with a largely diverse community. As the neighborhood grew, so did the amenities. Incredible restaurants with vast varieties of cuisines emerged, along with fun filled neighborhood activities. With so many beautiful parks and top rated schools, it's a wonderful place to host events, raise a family, and put down roots for generations. Cooper Plumbing is here to keep your home in tip-top shape with emergency plumbing repairs or installation services to help preserve your home for generations. 
77018