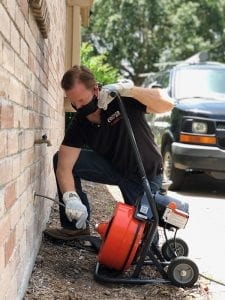 Emergency Plumbing – When you have a plumbing emergency, time is of the essence. At Cooper, our emergency plumbers are available 24 hours a day, 7 days a week to fix your clogs, burst pipes, backed up sewer line, or any other plumbing emergency you may have. All technicians have gone through a background check, licensed and are trained. This gives the client the peace of mind that work performed will be done professionally and efficiently.
When to Call Emergency Plumbers
While a clogged toilet or sink clog is an obvious sign of a plumbing emergency, there are other indications that you may have a serious problem that will need immediate attention. Give us a call immediately if you notice:
Flooding in Your Home or Yard
If you notice water damage or standing water in your home or yard, it could come from a variety of sources, including a broken water heater, clogged drain, or burst pipes. Get our team of the best plumbers in Houston on the phone immediately to find and fix your plumbing issue and minimize the amount of water damage in your home. There is a reason we are the trusted plumber in the Cypress and Northwest Houston area.
Lack of Hot Water
If you're suddenly having to take freezing showers or can't get your tap to run hot, you will likely need a water heater repair. For an electric water heater, you can check your heater's breaker box, and for a gas water heater, make sure the pilot light is on. If not, it could mean a more serious problem, especially if your water heater is more than 12 years old. The typical lifespan of a water heater is 8-12 years. Our expert licensed service plumbers will get your heater back in working order by providing a thorough diagnosis. We may recommend repairs or even replacement of  your water heater or upgrading to a tankless heater by providing you with the most cost effective solution to save you money in the long run. 
Standing Water in Yard
Wet spots in your yard can mean a broken water supply or sewer line, and both can become very costly very quickly. If not addressed, the pooling water can cause damage to your home's foundation– not to mention the unpleasant smell if it's a broken sewer line. Contact us immediately to determine if you need a sewer line repair or full replacement of your home's pipes and water system.  Our licensed service plumbers can run a camera and locate any sewer issues in your yard.
Dripping Faucets or Outdoor Spigots
While a dripping faucet could simply mean you need fixture repair or replacement, it could also be caused by a more serious problem. If the faucet is leaking even when turned completely off, it could be from an internal leak caused by a broken or burst pipe. This leak may cause your indoor or outdoor spigots to drip, and could also be leaking into your home's walls. This could also cause an increase in your water bill. It's essential to find and fix the damage quickly before your home becomes susceptible to mold or water damage. 
Choose the Best Emergency Plumbers in Houston
We understand that plumbing emergencies are never convenient, but that's why our team of experts are here for any emergency, 24/7. Cooper Plumbing is locally owned and operated, licensed, bonded and insured, with fully certified technicians and no hidden fees. We can get to your plumbing emergency anywhere in Cypress or the greater Houston area in no time. 
Call us at 832-441-9683 for 24/7 emergency plumbing services or to learn about our services.